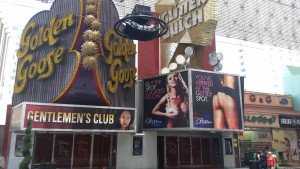 The closure of Mermaids and La Bayou will take a little bit of inventory of cheap eats away from the Fremont Street Experience. Also closing at the same time is the Glitter Gulch but No One really cares about that, expect the People that will be out of work. Downtown Las Vegas is starting to look like the old lady that cannot stop getting plastic surgery and with every change She gets worse looking. The skyline which is under the canopy is so crowded by Slotzilla Zip line that You can barely see from one side of the street to the other and that street is filled with buskers and kiosk.
No more deep fried twinkies or deep fried oreos in downtown Vegas. There were other cheap eats to choose from like hot dogs and fries. In the absence of these places other downtown vendors will raise their prices and make finding bargains on food in downtown impossible. Mc Donalds is still in downtown, but for how much longer? Mc Donalds left the south end of the strip recently and in it's place came very expensive restaurants.
Downtown still has some interesting choices for food but they are slowing going up on price so eat fast.