MGM Resorts International and Caesar's Entertainment Group are constantly competing for Your business, after all they make up the vast majority of Hotels on the famous Las Vegas Strip. There are only a few properties not owned by one of these mega public companies, a few are the Venetian, Palazzo, Wynn, Encore, Treasure Island and the Cosmopolitan, all the rest on the Strip are either MGM or Caesars owned. As a customer You want to get as much bang for Your buck so most likely You will pick either MGM or Caesar's Hotels and stick to it so all Your points are going toward free stuff. If You are a NON smoker, I need to inform You that MGM has now made all their Poker Rooms and Sports Books non smoking. The Poker Rooms have always been non smoking for some reason but just recently the Sports books in all properties are now non smoking. This non smoking policy applies to Aria, MGM Grand, Monte Carlo, Excalibur, Luxor, Mandalay Bay, Bellagio, Mirage and Circus Circus. Caesars still not only allows smoking but even Cigars are allowed. Even though only 10 percent of the Customers are smoking Cigarettes and less than one percent are smoking Cigars the full room is ruined by this minority of it's Customers.
Not only has MGM stopped smoking in their sports books, they are serious about it. There are others that say they are non smoking but plenty of People walk right in and smoke and No One stops them. The MGM sports books go the extra mile and put the signs all over the Sports books.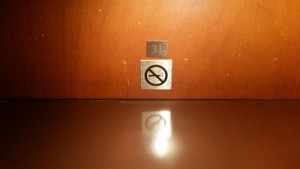 You will see this sign at the desk that have the small tv's. The sign is very well seen without being negative to your sports experience. It is not enough to say You are non smoking if there is no enforcement of the violators, at the MGM properties You cannot plead ignorance since the signs are everywhere. If You go to the Westgate Sports books the sign can easily be missed so smokers always say they did not know but the cancer is already in Innocent People's lungs.
I am not sure how the Poker Rooms were first to abolish all types of smoking but that is the case all over Vegas. I have yet to find a Poker Room that is NOT non smoking. I do not want to look a gift horse in the mouth but why did Poker Players get protected from Cancer before slot players, crap players, Black Jack players or any other areas of the casino? But now that MGM has banned it in all their sports books it can only be a short time for Caesars to follow or be left behind, then We can move on to Slots or Table games. One day at a time, sweet Jesus, one day at a time.
Put non smoking Customers and all Casino workers in Your prayers for they are dying Everyday that Casinos are not 100 percent smoke free. The smokers made a choice to ruin their health but We did not.