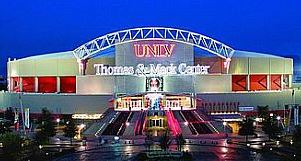 Thomas and Mack Center
4505 South Maryland Parkway
Las Vegas, Nevada, 89119
The Thomas and Mack Center is very well known and has been hosting concerts, sporting events and shows since 1983. An addition was added tot he facility in 2001 and named "Cox Pavilion" which host smaller events. You will see many ICE skating events at Thomas and Mack, like the Disney On Ice shows. The Rodeo and PBR events have an annual visit to this venue.
Ticket prices below are the best price from the secondary ticket market. Save 10 dollars on orders for 300 dollars or more. Customers simply need to enter code TNTIX at checkout to receive the discount!