What We know now about The Ling: It will open in 2014, maybe early or summer. However, some of the shopping, dining and entertainment will be open in time for You to rock in the New Year, December of 2013. Right now, it is just annoying construction but Las Vegas is used to that. What will it include?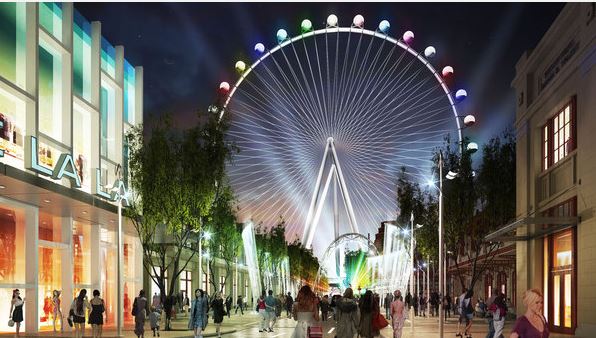 The Ling is located between the Quad (Imperial Palace) and the Flamingo. Yes, that means that a favorite casino, O'Sheas will be gone but will be relocated inside the massive venue.
What will be the atmosphere? If You have ever been to Disney World, Disneyland or the Universal Parks, You will immediately get the idea. It will look like a closed off street party. The make believe street will look like a street not a outdoor mall. Like Fremont Street Experience? NO, for some reason the Fremont Street Experience decided to close the street and then act like it was never there by making it a sidewalk. The Ling will have a much better experience than the Fremont Street Experience.
The High Roller is the name of the giant Ferris Wheel, The Ling is the name of the complex that the Ferris Wheel is located in. The Ferris Wheel will offer a dining and site seeing experience that will cycle in about one hour.
The Ling will include Cleveland's Rock and Roll Hall of Fame. The museum, complete with a themed restaurant, will front the sidewalk along Las Vegas Boulevard.
About 37 million People visit Las Vegas each year and Caesars Entertainment Corp., the parent company of the Ling, estimate that more than 20 million visitors walk past the site each year.
The mall will also include the only Brooklyn Bowl bowling-and-music venue outside of the popular New York City original. Besides a 2,000-seat performance area, the location will host a restaurant and, of course, a bowling alley.