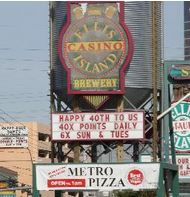 4178 Koval Lane, Las Vegas, NV 89109
According to Azcentral.com writer By Anthony Curtis, Ellis Island is offering to reimburse Customer's up to 20 dollars in slot play for Your taxi fare receipt.
Ellis Island is a great little place one block off the Las Vegas Strip to the east of Flamingo and Las Vegas Blvd. Known for great steaks and prime rib Ellis Island also has the best pizza all over Vegas at the Metro Pizza company next to the restaurant. You should call 702-733-8901 to double check the deal is still good, it should last a while but not forever.
The deal is an great opportunity to check this place out. This deal is a marketing plan of Ellis Island to make more People aware of where They are. Many tourist have heard of Ellis Islands but most do not know where it is or how to get to it. Once You go, You will be back and that what makes these type of promotions work.