{rating}
Stratosphere Hotel Casino North Strip Las Vegas
Stratosphere Room Rates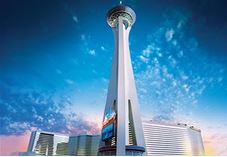 2000 Las Vegas Boulevard
Las Vegas (NV), 89104
Stratosphere Hotel and casino was once the most famous landmarks all over Vegas. It isn't anymore but do not discount this property. Now that the rates are very low on the north end of the Las Vegas strip, where Stratosphere is, this is a great choice. If You have kids, they will love to stay here, the tower rides are very thrilling and are discounted heavily for hotel guest. Have dinner at the top of the tower for the best views all over Vegas. The rooms are all new as of 2012 and are larger than most on the strip. The price is very good, especially during the weekdays.