{rating}
Gold Coast Hotel Casino West of Strip Las Vegas
Gold Coast Room Rates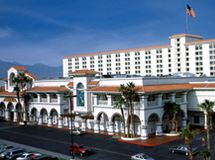 Gold Coast Hotel Casino
4000 West Flamingo Road
Las Vegas, NV 89103
Gold Coast is about half a mile west of the Las Vegas Strip but it is not walkable, You must take a shuttle bus or some form of transportation because You have to cross I-15 and if You walk, You will risk Your life doing so.
The Gold Coast is very unique in that it is has a great casino, one of the most fun all over Vegas. On the second floor is a huge bowling ally so if You get tired of gambling take a short shuttle ride from the strip and spend the day here. If You want to stay here it is usually a good choice in the lower price range of hotel rates. The trick to this hotel is You should walk over to the Rio, which is just next door to get Your transportation to and from the Strip. The rooms are very basic, no frills, 3 star but probably is more like 2.5 star. The rooms are clean and bedding is typical of lower priced hotels. The casino makes up for what the room is lacking.
Gold Coast Room Rates