Andrew Dice Clay Hard Rock Las Vegas Show Review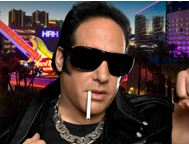 Andrew Dice Clay has moved from the LVH to the Hard Rock. He might be more suited at the Hard Rock where anything goes. The audience is a little younger at the Hard Rock and they seem to enjoy Him.
Andrew Dice Clay filled huge venues back in the 80's then kind of disappeared. He recently was on the Celebrity apprentice and was quick to rattle off all the record crowds he performed in front of, like Madison Square Garden. His bad Boy image is still part of the show today. His disrespect toward Women is the theme of his show but its all in fun or so he says.