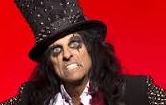 Alice Cooper will perform at the Palms, Las Vegas on November 27, 2013
Alice Cooper was born on February 4, 1948 in Detroit, MI, He is 75 years old.
He is known for His crazy antics included using snakes, electric chairs and more bizarre tools.
He is one of those performers that has a cult like following and will come to see Him anywhere.

Ticket prices below are the best price from the secondary ticket market. Save 10 dollars on orders for 350 dollars or more. Customers simply need to enter code AFF$10 at checkout to receive the discount!