{rating}
Gold Spike Hotel Casino Downtown Las Vegas
Gold Spike Room Rates
I am sad to report that this Hotel is now closed and will be used as housing for the new owner's employees. Zappos has purchased it and first closed the casino and now the hotel.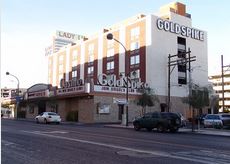 217 Las Vegas Blvd North
Las Vegas, NV 89101
Gold Spike Hotel Casino is a short walk, about one and a half blocks from the Fremont Street Experience. Many People visit Las Vegas downtown year after year and have never heard of Gold Spike. This is a very unique little operation and worth a stroll away from the Fremont Experience to check it out. Do so with other People, not alone and never at night. The hotel is a 3 star hotel, it is surprisingly very nice. The rooms are modern, there aren't a lot of them but if You get in a pinch and looking for a good rate, this hotel is a great choice.
Gold Spike Room Rates