update: This show is closed and CoCo is onto new projects.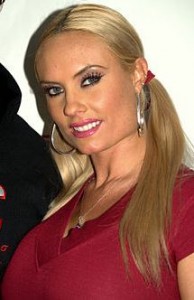 CoCo Austin, 44 years old is going strong in the hit show PEEP Show. The departure of Miss Las Vegas Holly Madison had many doubting a replacement could keep this show going.
Growing up with Actor Parents, CoCo (short for Nicole) was modeling at the age of 14. Being in front of an audience is no big deal to CoCo. Her fame comes from Her modeling days with Playboy, doing a spread in the March 2008 issue.
Her name spiked when She married rapper Ice T in 2001, They later did a reality show together entitled "Ice loves CoCo".
The part of Bo Peeo was offered to Coco as a temporary gig but She did such a good job, She was given an extended contract. The present contract will expire, September 1, 2013. We are sure that if CoCo wants to stay the contract will be renewed, but the show is lot of work and takes a lot of time away from Ice T.